Artistic Gem
By Chris Patterson, InFocus Magazine, Courtenay, BC, Volume 11, Number 5
Photo by Boomer Jerritt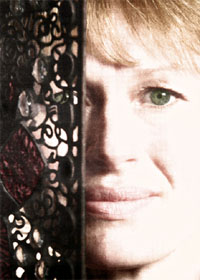 "It's such a passion," says Loris Dawn Nygaard of her unique filigree artwork.
Like a pirate with a treasure, artist Loris Dawn Nygaard hoards gemstones. Of course, it doesn't matter that hers are just glass and not the real thing. She has drawers full of every size and colour imaginable, and, admittedly can't bear it if she doesn't have a certain shade on hand. "I have to have every colour," says Nygaard with a laugh. "And if I'm out of a certain one then that's the one I have to have." Nygaard is a "glass gem and filigree artist-I don't know if that's a title for an artist or not," she says with a laugh, "but that's what I'm calling myself."
The laid back Nygaard, 42, works in her at-home studio creating stained glass window panels, gemstone studded lamps and light fixtures, candleholders and many other unique creations.
Made of bevelled glass, crystals and coloured, round, 'uncut' gemstones set amongst a filigree design made of twisted wire, Nygaard proudly shows off her stained glass window panels hanging in the front window of her home. She gestures to her living room wall explaining how when the light hits the glass and gems just so the reflections are amazing.
"Early in the morning," says Nygaard, "when the light streams in, the filigree is just so doily-like and lacy. I'll often take photos of the light on the wall. The whole thing with my art is the reflections that you get with it. The feeling I get is really ...mmm, Victorian, I guess."
Although she sells many of her art pieces in stores up and down Vancouver Island, the filigreed window panels are still too special for her to consider selling. A minimum two week project, the panels are a laborious process, but a labour of love nonetheless. "I don't want to give them up yet," says Nygaard. "Putting my art out there - especially something that takes a lot of time and heart - to put it out there is hard."
Her artwork is inextricably tied into who she is, and to contemplate an existence without her art would be unthinkable. For some people, like Nygaard, creative expression is a need-as essential to their being as the air they breathe. And that need drives the will to produce something-anything that speaks to them and inspires their soul.
For many people, producing art can be intimidating. Inhibitions lie buried deep within our consciousness making it almost impossible to free us enough to explore just what can be done if we let ourselves. The perfectionist within will not let the creative side run amok for fear of making a mistake. Or that the end result will be 'wrong' or-horrors-that we may look silly doing it.
For Nygaard there are no such reservations. "I don't know how to describe how I am," says Nygaard, "I have to do art. I get comfort from it and I like to be surrounded by it. It's hard for me to get away from doing my artwork-it's such a passion!"
In 1988 when her first child was born, Nygaard was into making coil pottery using red and white clay. That same year Nygaard, a former bartender, won a "large sum" of money from Lotto 649, allowing her to quit her job and concentrate fully on her art. With a distinctive style all her own, she sold her pieces at the high end galleries Out of Hand and The Quest in Victoria in 1989. But an artist is always evolving and eight years ago, after taking a stained glass course, Nygaard became hooked on making small, detailed creations of her own design.
She learned the basics of how to make stained glass, and after being told that her tiny intricate pieces wouldn't sell, she disregarded that bit of advice and followed her gut instinct. She started learning how to twist wire and began to see the effects that it had, and things began to take off for her from there.
One of her big breaks came when her sister, Sandy Nygaard, an interior designer in Victoria, asked her to do some unique lighting for Hugo's Bar and Grill in the Magnolia Hotel. 'Just go spazzy' was what her sister told her. "She didn't really give me any direction," Nygaard says. "She told me to just go nuts - to not make them uniform, and not to try to make one side match the other. She came up to Gold River where I lived at the time and we spent the evening discussing it."
What came of that discussion was a set of three large-scale, bullet-shaped, pendant lights-one 30 inches long and 12 inches around, and two slightly smaller. Made of clear gems set into a base frame, they are hung asymmetrically suspended from chains in the ceiling. The feedback from customers to the upscale bar was phenomenal. "They took off," says Nygaard. "People loved them!" That job soon led to another lighting design for the new store of well-known Victoria chocolate shop Rogers' Chocolates.
Nygaard and her sister teamed up their talent and design ideas for Rogers' Chocolates shop in Sidney, then Oak Bay. And after that, two more stores in Calgary and one in Pacific Centre in Vancouver. "They wanted my lights," says Nygaard with a little laugh. "I did the main lighting and some sconces." The beautiful, multicoloured gemstones are set in a curvy wrought iron chandelier and are almost Victorian looking in design.
Although the basic structure of the lights is elegantly old fashioned, the fun, brightly coloured gems give it a funky, new twist. Nygaard also designed beautiful grapes and vine motif clustered lamps and sconces for The Clubhouse bar in the Strathcona Hotel in Victoria. Word of mouth from these high-profile jobs has been good for Nygaard and her business, Lorisdawn Designs.
A few awards along the way don't hurt either. The Glastar Art Glass Competition based out of the United States has monthly winners, and over the years, Nygaard has won three times in the 3D category. Nygaard has also won their big juried competition, coming in first in 2001, and placing second in 2002.
Last August, Nygaard and her three school-aged children moved to the Valley from Gold River, BC, and she has been busy settling her family and setting up her business ever since. Currently, Lorisdawn Design pieces are sold in the Comox Valley Art Gallery in Courtenay, at Signature Wine Cellars in Comox and in several other stores on the Island.
For the past six weeks Nygaard has been busy working to stock them up for Christmas. 'I'll be working on promoting my business now," says Nygaard. "This is just the beginning. It's all little baby steps and I sure hope I have the time to pull it off."
Nygaard likes the thought of working on custom orders and really concentrating on developing a relationship with her clients-talking to them, getting a feel for their homes and what they want, then determining a budget. A client is also welcome to choose a piece, then handpick the gems and colors they want for that piece. And that, according to Nygaard, is a satisfying feeling for some people-to really feel they've had a hand in designing the piece.
Each gem is sent out to be hand wrapped in copper foil, because Nygaard simply doesn't have the time. Most pieces Nygaard creates are offered in two finishes-shiny silver and the more matte black wrought iron. "The colours really set the mood," says Nygaard. "The colour combining is really important and I love to do it. I just have thousands of gems! The combination of the gems set a real tone too. For example, the blues and greens are very cool and then there's the red, orange and gold, and it's hot, hot, hot. I believe there's a lot of truth to colour therapy."
The candle "collars" (holders) she makes are a moderate price point that sell from $79 to $135 and are a very popular item. "People want them for the bath," says Nygaard. "With all the different colors you can turn it until you find the reflection you like on the wall. Then the color from a nugget just zaps you! They reflect the light in such a strong way, and I feel the reflections are almost as important as the art itself. It can change the whole ambiance in a room. It's like getting two pieces of art in one." As well as the lamp art and candle collars, Nygaard designs some smaller, whimsical characters like her stick figures, each modelled with something different. For example, one holds a red rose to say 'I love you'.
There are also a variety of animals and insects-frogs, butterflies, ladybugs, cats- meant for the garden or home décor. Around three or four inches high, these 'Little Gems' usually sell for around $15-$19. There's even a Christmas cat in a Santa hat.
And to her knowledge, there is no one out there doing what she's doing with wire and gems. 'And that's why I have to do this - I made it up!" says Nygaard. It's just not something people are doing. What I'm doing is pulling copper wire with solder on it and twisting it. And when I twist it, the form it takes depends on my mood and the tension I have. About 10 years ago I saw a lady on TV twisting wire and making folk art animals with it. I remember she lived on a farm and at that time I thought, 'What a lucky duck sitting there twisting wire and making a living out of doing it. And now I laugh, because that's exactly what I do."
Nygaard loves shiny things and she loves to stash away her materials. With hoards of wire - she can't bear the thought of not having enough - gemstones, crystals, and china plates for creating mosaics, she is set for whatever project comes her way.
She also recently volunteered her time at the hospital helping the elderly with their painting and artwork, and will take on the job of mentoring a mentally challenged girl. "I hope to inspire her," she says. "And I'm going to get her started doing her own thing, while I'm doing my thing. And it's going to get me out of the house more. It gets kind of lonely here."
Making friends with some women she's met through her children's school has been an important step to becoming part of the community. Going bike riding or making Christmas wreaths with them are a way for her to get out and socialize. And her friends have become a lifeline in a way. "I think you have to like yourself to work alone, but it's healthy to be around people too. I feel really fortunate to have met these friends, but there's still some hesitancy for me in going. I think, 'I could be at home doing art, or I could be at home working!' But you have to be social," says Nygaard with a smile.
Nygaard sees herself as having the drive to make a big success of Lorisdawn Designs. "I have got energy that doesn't stop. My kids say to me, 'Mom, slow down - chill out.'" She laughs.
"In five years I see myself in demand. Maybe even on Oprah! I'm really determined and I'm not going to stop. I love what I do. You know, I play my music nice and loud and I groove. I dance while I solder. I'm a content person, and I can't help loving this. Life is good."